I
LOVE
you
.
Please click F11
Hai! welcome to my blog i am and ichiruki fan! well i support other loveteams in bLeach well umm i also love lovey lovehitsugaya that is all bleach rocks!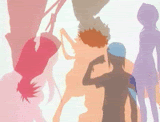 themes
ask
submit
home















designer Tinasahan.

thats his fav number
because
-in symmetrical 7 you see when its half i think it umm  asymmetrical while when you half eight upside down or left and right they are equal.

19 notes